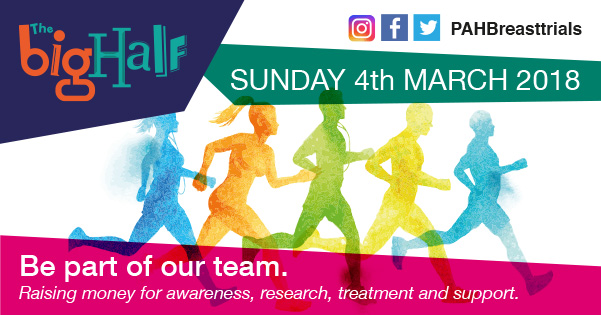 The Big Half – Sunday 4th March 2018
Introducing London's newest and most exciting half marathon beginning at Tower Bridge, running through Canary Wharf and finishing at the Cutty Sark. The Big Half, brought to you by the the Virgin London Marathon team, is a unique half marathon that finishes with a 'Big Festival' in Greenwich park.
The event is ideal for first time marathon runners wanting to conquer 13.1 miles to raise money for breast cancer research and clinical trials. Friends and family can also come to the event to soak up the marathon atmosphere and enjoy cheering you on as you complete the challenge.
The event will include:
The Big Half: a 13.1 mile route taking you though the boroughs of Southwark, Tower Hamlets, Lewisham and Greenwich
The Big Festival: to celebrate the completion of the Big Half, the London Marathon organisers are hosting a festival in celebration of London's diverse culture, food and music for all runners and supporters. You will have access to many food stalls from all around the world t0 help you replenish after completing the half marathon!
We have 45 places to fill for the Epping Breast Unit team. As part of the team, you'll receive a running vest, information and guidance for training and finally and most importantly, cheering from the loudest team on the route!
To join the team in the new London event, we ask for a registration fee of £50 and a fundraising pledge of £150.
To register, or if you have any queries, please call the charity office on 01279 827857 or email in at pahbreasttrials@outlook.com.
We look forward to hearing from you!