Prudential Ride London-Surrey 100
Event Navigation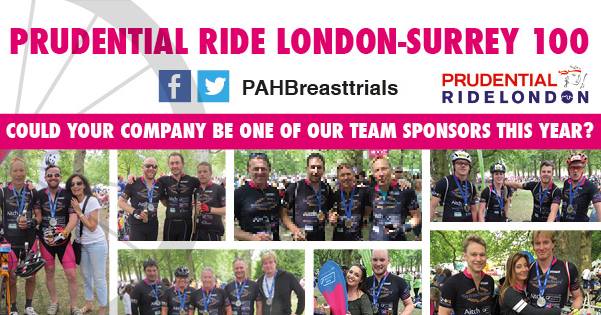 Celebrating the cycling legacy created by the London 2012 Olympic and Paralympic Games, the Prudential Ride London-Surrey 100 starts in the Queen Elizabeth Olympic Park, then follows a 100-mile route on closed roads through the capital and into Surrey's stunning countryside.
For our fifth year, we will have 40 riders cycling the route to raise funds for The Princess Alexandra Hospital NHS Trust Charitable Fund – Breast Unit.
We are looking for company team sponsorships, we have three packages availible: Gold, Silver & Bonze. More details can be found https://pahbreasttrials.org.uk/prudential-ride-sponsorship-opportunities-2018
If you would like to come along and support our cyclists these are the timings for the route.
Start – Queen Elizabeth Olympic Park 05:45-09:15
Hampton Court Bridge Mile 27 06:40-11:10
Newlands Corner Mile 47 07:30-12:55
Westcott Mile 62 08:05-14:30
Leatherhead Mile 75 08:40-16:00
Kingston Mile 85 09:00-16:45
Wimbledon Mile 90 09:15-17:05
Finish – The Mall Mile 100 09:40-17:45
The charity will be meeting them all at the end in Green Park just over the finishing line under the letter Z.
Come and join us for refreshments and greet our riders.
#TeamBreastUnit2018 #SimplyTheBreast
#pahbreasttrials #breastcancer #charity