Madagascar Charity Trek
Event Navigation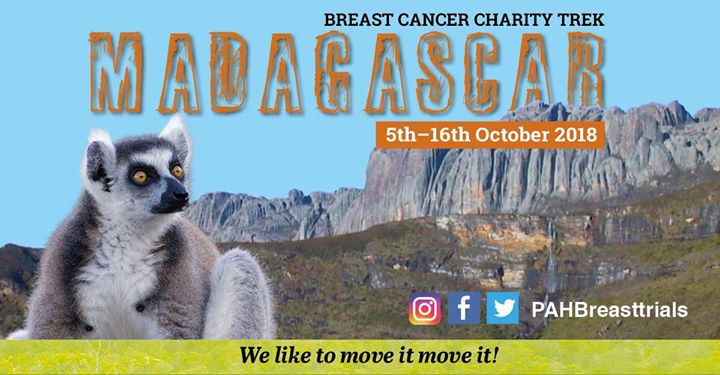 Following many very successful treks and cycle challenges with Discover Adventure, we are very excited to announce the Breast Unit's expedition to Madagascar in October 2018.
To join the group, please click here to sign up with Discover Adventure.
The current dates for the trek are the 5th – 16th October 2018. We currently have a group of twenty trekkers signed up to take part, if you would like more information, please email Yvonne on yvonne.martin@pah.nhs.uk.
Join our charity trek to the fourth largest island in the world, located off the southeast coast of Africa. Trekking through dense rainforest and spectacular scenery, you will encounter both lemurs and chameleons! The trek will take us to the plateau of Pic Boby, the second highest peak on the island. You'll also enjoy river swims, night camping and travel in 4X4s. You will also explore one of the world's most biodiverse islands in the company of a team of Breast Unit supporters, as well as the team's personal tour guide.
Trekking Information
Terrain is very varied as we pass through different eco-systems on the island. We trek through grassy plains, dirt tracks and rocky trails, forest paths which may be overgrown and slippery at times, and barren rocky mountain paths with some clambering over boulders on the ascent of Pic Boby. The ascent day is particularly demanding. Our highest point is at 2658m; this is not serious altitude and you are unlikely to feel any major effects of being at a higher elevation. You will trek approximately 60- 70km on this trip overall; it's much more useful when training to think about the ours you will be walking for, and the terrain!
This trek is achievable for most people provided they train well in advance on different types of terrain. We supply you with a thorough training guide on registration.
Crew & Trip Support
Your trip will be led by experienced Discover Adventure leaders. Our leaders are selected for their experience in harsh wilderness environments, knowledge of travel in remote areas, friendliness and approachability, sense of humour and ability to safely and effectively deal with any situation that arises. They are also trained in expedition first-aid. You are in very safe hands with a Discover Adventure leader.
An expedition doctor or medic also accompanies trips unless run below minimum group size. The crew will have radios and emergency satellite phones, extensive medical kit and other safety apparatus where necessary. Our local support crew is made up of local guides, drivers, cooks and porters. Local guides know the area well, and are a great source of knowledge about local customs and lifestyles. The Discover Adventure crew work closely with the local crew to ensure your trip runs smoothly and safely.
Accommodation & Food
We camp during the trek in two-man tents. Some campsites are quite simple, others are permanent tented camps with wooden or thatched shelters and very good facilities. All have great views! The hotels are comfortable and clean with en-suite facilities; they are on a twinshare basis. Some are like guesthouses and others more international in style, so expect some variation.
All food is included All food is included except where specified in the itinerary. The food is great, will give you plenty of energy, and there is plenty of it. Meals will be generally local-style.
For a more information & a more detailed itinerary please contact Yvonne Martin or contact Epping Breast Unit Charity Office on 01279 827857.
Suggested donation £4500. £250 non-refundable deposit.
Testimonials from Breast Unit trekkers:
"12 months ago it was a scary thought that we needed to raise £4000 each for Epping Breast Unit & then having to walk part of The Great Wall of China. To our surprise we did it and smashed our target, as well as making friends for life, despite some of the team having no fundraising experience and having not met each other before signing up to the challenge. We've been left with a very special bond between the whole team of 25. The challenge was one of the hardest things I have ever done as well as the fundraising, but I can say with ease it's the best thing I've ever done and would encourage anyone to take up the challenge"
Kelly Stone, participant on the Great Wall of China Trek Challenge in April 2017
"What an experience! Never in our wildest dreams did we ever think that a group of 4 women from small villages could raise £16,000, but during our actual trek we topped £19,000! The support and friendship of all of the other trekkers has beaten even that feeling. The Great Wall of China was beautiful, terrifying, serene, exhausting, immense and exhilarating all at the same time, and to share the experience with such a wonderful group of people who are now 'family' has been the best time if our lives. The involvement from Ashraf and his charity team has been phenomenal and brought us to tears… happy ones!"
Stephanie Green, participant on the Great Wall of China Challenge in April 2017
"When I was told about the PAH Breast Cancer Trials fundraising trek along the Great Wall of China by my friend a year ago I wasn't too sure. But having done it, I'm so glad that I was encouraged to sign up. Having lost my husband a few years ago, and now that my sons have grown up and getting on with their own lives I really want to ensure I don't allow life to pass me by. I know my husband would have wanted me to continue experiencing life to the full. Well I did it; and what an adventure it was too! I joined a group of people, most of whom I have never met and made some wonderful new friends. It was fantastic how we all gelled, and laughed and cried together through the trials and tribulations of each day. This was the most challenging thing I have ever done. As a group of 25 "trekkers" we were tested on stamina, endurance and on our personal fears and anxieties. The trek was exhausting, yet exhilarating! We had a wonderful experience walking/climbing along the Great Wall, viewing some spectacular scenery along the way. I will remember this forever, and with great pride. To add to that, the most heartwarming part of it is that we have managed to raise so much for such a wonderful cause."
Pushpa Mistry, participant on the Great Wall of China Challenge in April 2017